Lifting & Construction Insurance Experts
"One Of The Main Reasons Behind Our Success Is That Sanderson, Being A Specialist In The Crane Industry, Know Our Business Just As Well As We Do."
– Borger Cranes
Specialist Crane & Heavy Plant Insurance Brokers
Since the company's inception in 1972, Sanderson Insurance Brokers have been dedicated to providing their valued clients with concise, tailored insurance coverage. This wealth of experience and knowledge has allowed Sanderson to provide informative advice to their clients for decades, helping each of them better understand their own businesses by pointing out the risks and potential exposures that are associated with their activities.
Hear what our clients have to say
Botany Access and Sanderson Insurance have had a thriving relationship that has passed through generations and only strengthened over time. Andrew Bramble, much like his father before him, treats every matter with incredible professionalism. In urgent and often serious situations when we need solutions, his wealth of knowledge allows him to provide advice and guidance on the spot. At renewal, Andrew works very hard and closely with us to ensure any risk or potential exposure is accounted for and that we are getting the best possible price, whilst making sure we aren't paying for things that are not necessary.
She just knows everything! Any question or concern that we might have is swiftly answered by a prompt email or phone call. In the event of a claim, or any stressful situation, all we have to do is send Gina an email and she looks after the rest.
Sanderson have handled our insurances for over 10 years and have always managed to cater to our every need as an earthmoving business with respect and excellent customer service. We have always found Gina to be extremely professional, all the while maintaining a relationship which extends further than business.
I've been with Sanderson for over 20 years and that won't be changing. Specialising in Crane Inspections, the insurance paperwork can be tricky, the responsiveness of the team gives a solution to any qualm.
With Sanderson, the most complex problems and situations are made simple. Any request is attended to without question, allowing us to focus on what we do best.
Our relationship with Sanderson Insurance dates back over 30 years and although generations have changed, the level of expertise has not. The advice and unwavering support offered by the team makes the whole process very easy.
The Sanderson team do everything. The stresses of insurance claims and renewal processes are immediately alleviated after a single phone call.
Having a broker that genuinely cares about your needs as business and an individual is priceless. Sanderson have offered this for over a decade for MCL and somehow manage to negotiate the best prices year after year.
Having a broker that genuinely cares about your needs as business and an individual is priceless. Sanderson have offered this for over a decade for MCL and somehow manage to negotiate the best prices year after year.
Borger Cranes have been with Sanderson for more than 20 years and have always had a close working relationship. In the early days my parents Jon and Barbara Borger used to deal with Mike Bramble (Andrews Father) and that's where our families started a great relationship which has carried onto Andrew and myself. One of the main reasons behind our success is that Sanderson, being a specialist in Crane Industry, knows our business just as well as we do. It is important to have a broker that understands the industry inside out. Insurance paperwork can be overwhelming but one call to the Sanderson team and their knowledge and advice offers complete peace of mind.
The family at Sanderson have been my insurance brokers since 1998 and the service, price and quality of their products is unmatched in my industry. If you want to be looked after, I recommend them highly.
Sanderson's have been providing Frost Security Locksmith's insurances for over 20 years and we have always been extremely happy with the knowledge and professionalism that they are able to give us. Andrew has always kept us up to date on changes to our policies and with new insurance covers and as brokers they have always been able to provide our insurances at the most competitive prices. We have always been happy with the immediate response to any questions that we might have or any claim that we might need to lodge. We have no hesitation in recommending Sanderson Insurance to any business.
Professional, reliable and timely service. Would definitely recommend to anyone looking for assistance in this field.
Andrew handles a number of our insurance policies, and does so with a professional and approachable manner. Additionally, Andrew ensures a competitive price for all our policies. He has supported us through previous claim processes, making it painless and stress free!!
I have been dealing with Sanderson insurance now for a few years and they have always provided great service. They are prompt to respond to any of my queries and I have piece of mind they they will contact me prior to any of my insurances being due with plenty of time to make changes if required. They always make sure I am getting the best deal I can. I cannot fault their professionalism and knowledge.
I go to Andrew B for all my insurance needs and have multiple policies out with him. Andrew is a pleasure to deal with, he makes insurance easy. Take it from me, you want Andrew on your team. If only all politicians were as competent and trustworthy as Andrew, our society would be in a much better space.
Andrew's attention to detail & hard work has ensured our business has a coverage first approach. The Sanderson team is responsive, fast & always solves our problems. Thank you to Andrew, Jimmy & the team!
Winner of IB's Elite Broker 2021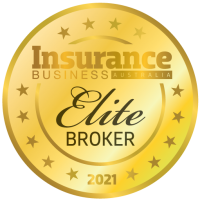 Get in contact

with us today
Our clients stay with us for the long-term because we invest in them. We deal with your issues, and present the best solutions.